Designed for safety & style at your swimming pool
Our high quality swimming pool overflow grating is made of Polystone® D (PE-HMW) and offered in bespoke dimensions, shapes and colours to harmonize with the design of your pool. Made of the plastic High Molecular Weight Polyethylene (PE-HMW) it is safe, hygienic and durable.
Our Polystone® D swimming pool gutter grates are:
Slip-resistant tested to DIN 51097 Class C
Easy to clean
Durable
Available in many colours
Adapts to fit your existing channel frame system
---
Production range - Swimming pool grates made of Polystone® D
Length: Metre lengths, others available on request
Width: From 125mm to 400mm
Thickness: From 10 to 40mm
Colours: blue, black, white or any RAL colour you specify
Corners 90° and 135°, other angles on request
Straight and curved grating available
Our swimming pool grates locks together using male/female locators, making it strong and safe and preventing lifting and gapping.
---
Design - Swimming pool grates:
We manufacture your pool gratings to your exact specification. By involving our manufacturing and quality teams directly in your project, you have access to their experience and knowledge to help identify the opportunities made possible by CNC machining of engineering plastics. The end result is a safe, hygienic and durable bespoke product.
Applications
Proven quality: Our pool gratings have been used worldwide for over 25 years.
Indoor and outdoor pools
Rectangular pools
Free-form swimming pools
Jacuzzis
Pools for spas
We supplied the channel grating installed for the 2014 Commonwealth Games in Tollcross Pool, Glasgow/Scotland
Pool gratings made of Polystone® D in different shapes and colours
---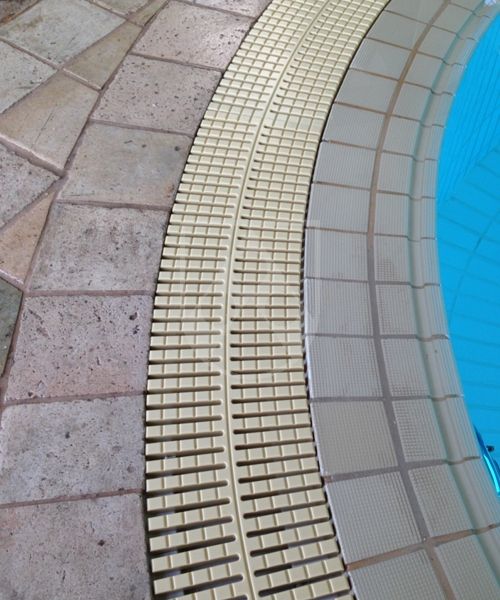 Designers and engineers consider many factors when planning and building swimming pools. Design is important and safety even more so. The best effect is when the design flows seamlessly from wet to dry areas and we can help achieve that. We manufacture swimming pool overflow gratings in bespoke colours, shapes and sizes for your design.
Colours
Our overflow channel gratings are available standard in blue, white or black, and any RAL colour to your specification, so they can be colour matched to suit your decor.
Shapes
Our swimming pool gratings are available in straight or curved design
Slots running at right angles or parallel to the pool edge for rectangular pools
Slots running at right angles for curved pools
Corner sections are available in 90° and 135° angles, or bespoke angles. Corners and joints are the most vulnerable part of your pool grating, so we manufacture strong, secure corners to the exact angle you require.
---
Swimming pool gratings have to offer maximum safety and hygiene and at the same time look good. Thanks to the special properties of the thermoplastic material High Molecular Weight Polyethylene (PE-HMW) our Polystone® D pool gratings meet these high requirements. They are:
Pool gratings made of Polystone® D conforms to Health & Safety guidelines DIN Standard 51097 red class C of Anti-slip Coefficient of Friction, a German standard that tests slip resistance of flooring in barefoot conditions using soapy water as a contaminant.
Polystone® D pool gratings do not crack, splinter, rot or delaminate. They are designed to meet the high safety requirements for swimming pools.
Pool gratings made of Polystone® D require little maintenance. They are easy to clean with common cleaning agents and impervious to algae.
Polystone® D overflow channel gratings are resistant to chlorine, sea water, cleaning agents, UV and weathering. Therefore they can be used for indoor and outdoor swimming pools.
Easy to handle - easy to install
With a density of 0.96 g/cm³ pool gratings made of Polystone® D are easy to handle and lighter than other conventional materials like stainless steel. This allows easy installation as well as easy removal when cleaning the overflow channel is necessary.
Polystone® D pool gratings combine very good stability with high strength and impact resistance. This provides a safe surface to walk on.
We are happy to help with the planning and design of your pool grating and advise you on the properties of Polystone® D. Just use our contact form at the bottom of the page and write to us.
Further products for pool & spa