Plastics for working & recreational boats
Especially for the construction of working boats and recreational boats we offer a wide range of thermoplastics. Depending on the material they resist corrosive salt water, are UV and weather-resistant, of high quality visually and are easy to process. They support you with the construction of, for example, long-lived fishing boats, robust rescue boats, safe ferries and optically high-quality yachts.
Long service life: High resilience against salt water, corrosion, UV radiation and weather
Resilient against operating equipment, oil, fuels and anti-fouling media
High mechanical stability
Fuel-efficient: Low density as compared to conventional materials such as steel
High-quantity surface
Typical areas of application
Recreational boats
Working boats
Fishing boats
Rescue boats
Ferries
Yachts
---
Working boats made of Polystone® G
Working boats constructed of Polystone® G black HD (PE-HD), such as fishing, police and rescue boats, are particularly long-lived and resilient. At a density of 0.96 g/cm³, the material is about eight times lighter than steel. The low weight supports manoeuvrability and fuel efficiency. At the same time, the material is resilient against salt water, oil and fuels and does not corrode. A protective coat of paint is not necessary. Outstanding UV resilience permits permanent use outdoors. More about Polystone® G black HD UV stabilized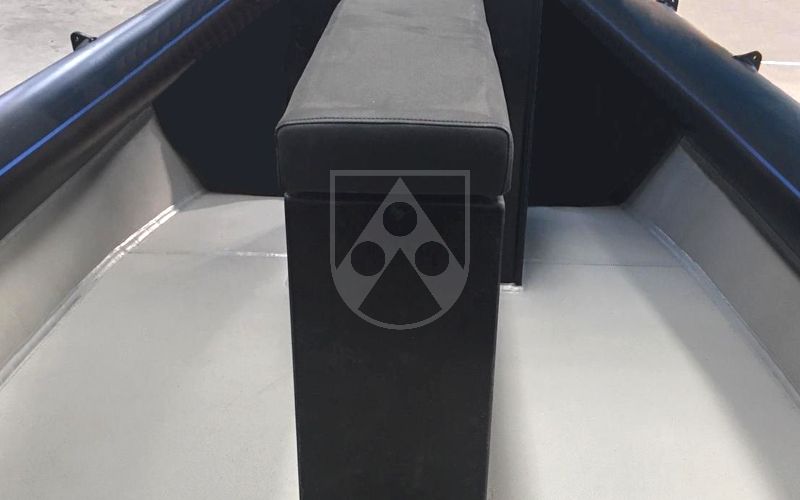 Anti-slip decks with Polystone® Safe-Tec
Decks made of Polystone® Safe-Tec combine safety and design. The special, non-slip surface offers a very high slip-resistance even when wet. With its high resistance to UV and weathering, Polystone® Safe-Tec is suitable for permanent outdoor use. In addition, it can be welded with boat hulls made of HD-PE. Decks made of Polystone® Safe-Tec therefore contribute to a long-term high-quality visual appearance of your boats.
Letterings and graphic elements made of Play-Tec®
With letterings and graphic elements made of Play-Tec® you can design your boats individually. Names, symbols or safety instructions can be easily machined individually into the surface. Play-Tec® is available in all RAL colours one-, two- or three-coloured. Therefore Play-Tec® offers plenty of room for creative ideas. Specially developed for outdoor use, Play-Tec® is water and dirt repellent and withstands the high demands of UV radiation and weather conditions as well as corrosive salt water at sea. The surface is easy to clean and offers a visually high-quality appearance.
Ship equipment made of Polystone® Marine-Tec
Polystone® Marine-Tec is a material specifically developed for ship equipment. It connects particularly high salt-water resilience with simple machining capacity and is characterised by a visually high-quality and easy-care surface. Thus, it permits easy production of equipment elements such as separations, control stands, platforms and storage spaces. More about Polystone® Marine-Tec
The performance and reliability of materials for ships and boats are influenced by a variety of factors. These criteria need to be considered in order to make the right choice. Examples:

Contact with fuels, oil, UV-radiation, salt-water, operation and anti-fouling media
Mechanical influences
Thermal influences
Constructional requirements
Dimensions and tolerances
We are happy to advise you on the selection of suitable materials for your particular application. Just use our contact form at the bottom of the page and write to us.