Plastics for railway engineering and rail vehicles
Rail transport takes people and goods safely and rapidly from A to B. Once on rail, reliable and powerful technology is required. Every designer is faced with the challenge of developing fast, safe and cost-efficient rail vehicles. Our plastics help you with this task: depending on the material, they are very light, for instance, yet mechanically stable and compliant with standards such as DIN EN 45545-2:2013. That reduces the weight of your rail vehicles while at the same time improving economy and safety.
Low density supports lightweight construction and boosts the efficiency of your vehicles
Long operating life thanks to high resistance to wear
High-quality appearance
Compliance with common standards such as DIN EN 45545-2:2013
Typical areas of application
Railway
High-speed trains
Passenger transport
Local rapid transit trains
Underground trains
Freight transport
---
External and internal cladding
With their low weight, high strength and flame retardant properties, our non-conductive Durostone® glass fibre-reinforced profiles are used for external and internal claddings in rail vehicles around the world. More information about Durostone® profiles
Cable clamps made of flame-retardant PA 6
Our material SUSTAMID 6 FR (PA6) meets the relevant requirements of rail vehicle standard DIN EN 45545-2:2013. As an extruded semi-finished product, it allows finished parts of large dimensions to be manufactured in small quantities – such as cable clamps for rail vehicles (image). More information about SUSTAMID 6 FR

Flame retardant components made of Polystone® MK FL according to EN 45545-2
Customized machined flame-resistant components made of Polystone® MK FL contribute to the safety, lightweight construction and efficiency of rail vehicles. The material fulfills the relevant requirements of the European rail vehicle standard EN 45545-2: 2013 and at the same time offers very good sliding properties as well as a low density of only 1 g/cm³. We will be pleased to machine components for your application according to your specifications with complex geometries and tight tolerances. With our state-of-the-art machinery, we are specialized in the machining of high-quality parts according to customer's requirements. Typical components for railway technology are sliding elements, cable clamps, linings and other components.
Insulating parts for rail transformers
The energy supply of locomotives is vitally important. We offer fully assembled components made of Lignostone® Transformerwood® for locomotive transformers. They offer excellent insulating properties alongside very high mechanical strength and have been used successfully in mineral oils and synthetic esters such as Midel® 7131 for decades. More information about Lignostone® Transformerwood®

The use of freight wagons for a wide variety of bulk goods demands a balance between protecting against wear and minimizing friction. For hopper, saddle or standard type wagons we recommend using our Matrox® material. Matrox® combines the best surface friction with the highest abrasion resistance, enhancing the optimum material flow of your bulk goods. More information about Matrox®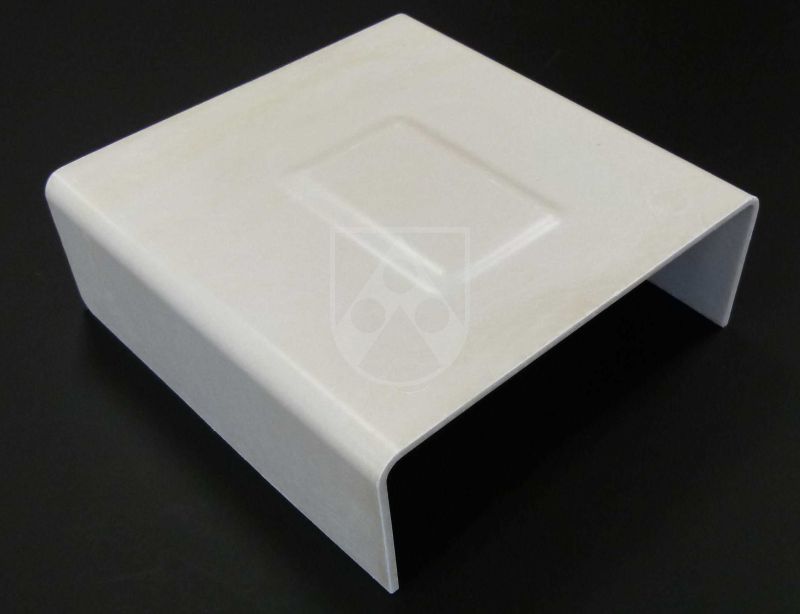 Insulated cover for current collector
Durostone® UPM S13 LST is a glass-fibre reinforced plastic consisting of unsaturated polyester resin reinforced with glass mat. The material meets the requirement R11, hazard level HL3, for arc resistant insulation materials of EN 45545-2:2013. Durostone® UPM S13 LST offers high strength both at room temperature and at higher temperatures. The density of 2.10 g/cm³ makes it possible to manufacture components that are lightweight but at the same time have high mechanical strength. Typical applications are mounts on bogies for current collectors (shoebeams), cover plates, snuffer boxes, switchgear, throttles and design elements for dry-type transformers. More information about Durostone® UPM S13 LST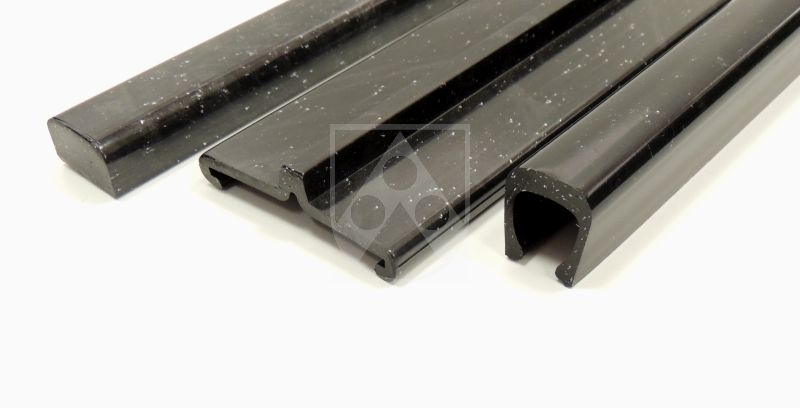 Slide elements made of Polystone® MK FL
With Polystone® MK FL we offer a flame-retardant PE-UHMW which meets the relevant requirements of the European rail vehicle standard EN 45545-2:2013. With a very low density of 1.0 g/cm³, this material supports the lightweight construction of rail vehicles, whilst offering excellent slide properties and high abrasion resistance. The properties make it particularly suitable for components which have to meet high requirements in terms of slide properties and abrasion resistance like slide elements.
---
How to find the right plastics for fire protection?
Fire protection is essential in railway technology. However, blanket demands for materials that meet the highest hazard level in EN 45545 are not very productive. This limits the choice of materials unnecessarily and may not make economic sense. For this reason, the material must be selected individually for each requirement. But which plastics are suitable for which applications? Read more about the selection of flame retardant materials for railway technology.
---
Plastics for Rail Technology and Vehicles
Material
Density [g/cm³]
Tensile modulus of elasticity
Notched impact strength [mJ/mm²]
Service temp.
Vacuum forming quality
Abrasion resistance
Sliding properties
Electrically insulating
Approvals relevant to railway technology
SUSTAMID® 6 FR (PA 6)
1,17
3800
>3
-20...85
○
◕
◕
●
EN 45545 NFPA130: ASTM E162, ASTM E662
UL 94 V0, BSS 7239
FAR 25.853
JP Railway Ignition Test
UL Yellow Card
Polystone® MK FL (PE-UHMW)
1,0
650
100
-150...80
○
●
●
●2)
EN 45545
UL94/V0
Maywoflamm® plus (PC/ABS Blend)
1,35
4650
4
90
●
◔
○
●
EN45545-2 R1 HL2
NFPA130 - E162
NFPA130 - E662
BSS 7239
JP Railway Ignition Test
UL 94 V0
Trovidur® EC-R (PVC-U)
1,44
2700
4
-10...60
●
◔
○
●
GOST 12.01.044.89
UL 94 V0
Durostone® UPM S13 LST (GFK)
2,1
14000 1)
>100
...130
○
●
○
●
EN 45545
NFPA130: ASTM E162, ASTM E662,
ASTM E1354
UL 94 V0
SMP 800-C
Durostone® GFK-Profile
1,65...2
10000... 20000
>100
...130
○
●
○
●
EN 45545
NFPA130: ASTM E162, ASTM E662,
ASTM E1354
UL 94 V0
SMP 800-C
Exemplary properties, non-binding information. Detailed technical data and other products on request.
○=Property not available
1) From bending test2) Optionally antistatic
---
---
The performance and service life of materials used in railway engineering and rail vehicles are influenced by a variety of factors. These criteria need to be considered in order to make the right choice. Examples:
Requirements on weight
Flame retardant
Mechanical loading
Thermal loading
External influences such as UV radiation and weathering
Design requirements, dimensions and tolerances
We are happy to advise you on the selection of suitable materials for your particular application. Just use our contact form at the bottom of the page and write to us.